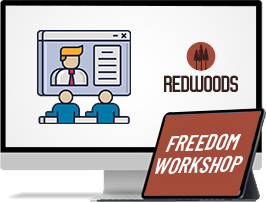 The Freedom Accelerator Workshop
The Freedom Accelerator is delivered in a 2-day immersive virtual workshop environment and is the perfect opportunity to APPLY the skills you learned by finishing the Insider Crypto Secrets.
It is designed for those who learn best in a collaborative, virtual classroom environment. You can get the same high-impact training you'd typically find at an in-person event, right from the comfort of your own home!
During The Freedom Accelerator, you will:
SECURE your digital asset empire
Learn how to access advanced DeFi investment strategies
Unlock the power of advanced crypto cashflow
opportunities
Discover critical portfolio allocation rules so you can sleep at night
Learn how to read block explorers and why they are critical to understand in the era of Web 3.0
Immerse yourself among a community of like-minded crypto investors
Want to be the first to know about our upcoming events and training programs?