You know how many people have lost money in crypto?
We built a community of experts who help remove the complexity and fear that plagues crypto investors.
If you ever want to try it, the process is really simple. First, we have a quick, 30-minute meeting where we evaluate your short, medium and long-term financial goals. Second, we design a plan on how safely investing a small portion of your overall portfolio can accelerate your path to financial freedom. You enjoy the the security and safety of crypto investing and, if you like, we take the third step where we help you implement the plan to help you achieve your goals with less than an hour per week.
With inflation skyrocketing the cost of living, traditional asset classes deflating faster than 3- day old birthday balloon, and the pace of crypto adoption accelerating the clock is ticking on preserving your wealth.
When assets are melting down, our community enjoys the peace of mind knowing their portfolios can withstand any financial hurricane it faces. Day after day, our clients gain the resolve and confidence in knowing they can preserve and grow their wealth by leveraging the intelligence of our community and expertise. And all because they focused on the actions that produce the most dramatic results!
Our team is ready and standing by to help you speak with you about meeting your financial goals. Click below to book a time to speak with an expert crypto consultant.
Enhance Your Crypto Knowledge Through Our
Full Suite Of Products And Services
Members-Only Masterminds
Learn directly from our founder and our resident Thought Leader! Get exclusive, high-level access to VJ Anma live on a weekly basis, where you can get your specific questions answered.
Be surrounded by other like-minded leaders who want to achieve the highest returns possible.
Enjoy exclusive members-only benefits, and get access to new information and opportunities before anyone else.
Elite Group Coaching
Want a dedicated Coach?
Get an extra level of mentorship so you can take what you're learning from the content, and close the knowing vs. doing gap, and have the ability to ask your Coach anything at all.
Want to BE a Coach?
Take your leadership in the community to the next level, and become a coach, where you can share your knowledge, and serve a segment of our community that seeks weekly community style learning sessions!
Crypto Insider Secrets Course
Learn EVERYTHING you need to know about investing in crypto through our step-by-step, simplified training courses.
Access comprehensive and highly-engaging content that breaks down virtually unknown crypto strategies into easy-to-learn trainings, and is designed to transform you from "new to crypto" to "crypto confident".
Premium Subscription Content
Receive monthly up-to-date crypto opportunities, so you remain "in the know" and can make data-driven investment decisions
Access the highest-quality crypto information that has been carefully researched and vetted so you can feel confident making informed investment decisions.
Live Webinars
Reach a level of crypto-mastery that sets you apart from everyone else, so you can achieve the greatest return on your investment for your time, and talent.
Access an entire library of up-to-date courses so you can Master the New Era of Money!
Immersive Impact Events
Redwoods offers both small and large scale events that you will never forget:
Bootcamp-style training days – Experience a hyper-accelerated training that takes you from "brand new" to understanding how to implement KEY crypto strategies to achieve your goals.
Large scale events – Fully immerse yourself in our multi-day events, where you'll not only learn in-depth crypto strategies, but connect, learn from, and create relationships with others in the community.
HERE'S WHAT
OTHER CRYPTO ENTHUSIASTS HAVE TO SAY
Dominic H
"VJ ended up being one of my saving graces in the space because the guy's got an innate ability to understand where the space is and where the space is going."
AND WHAT SOME OF OUR STUDENTS ARE SAYING
Mathieu A
"In just over two months, I feel very comfortable in doing trades, doing research, and understanding the investments we're making, and also managing the former."
Marta P
"I have gained so much knowledge around crypto that I wouldn't have been able to do it on my own."
Perry
"In just 60 short days, I've done two things. One is I've increased my knowledge and then I've also performed those transactions and I have the confidence to perform those transactions."
Phil
"Less than 3 months, and the transformation within my knowledge, emotions, market psychology, my ability to make decisions and evaluate crypto has just been a huge difference."
Dareck M
"I knew nothing about crypto the education has just been invaluable. The level of knowledge that I've gotten in a short period of time is absolutely amazing."
Kent J
"If I knew then what I know now, I would have done this years ago. VJ and his incredible team cover everything you need to know."
Lei F
"Access to VJ's expertise, the group's knowledge and support, and even the exclusive research findings make a difference. My life has really changed. I'm part of a trusted community who have my best interest at heart."
How are we able to provide such valuable information?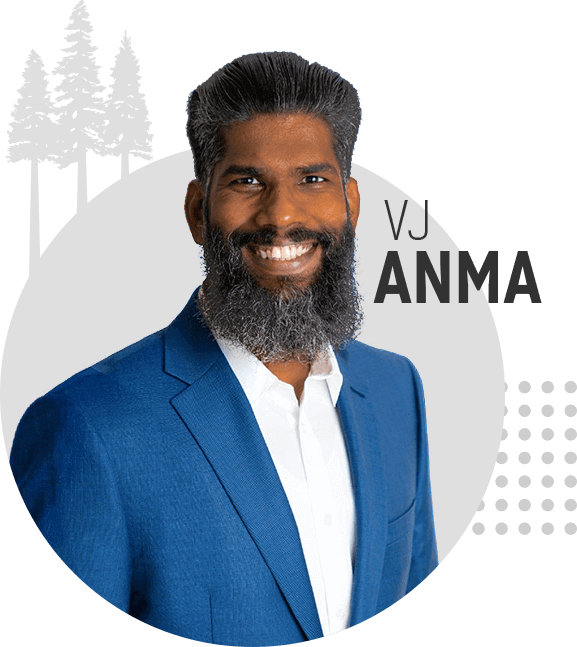 through VJ, our community Founder and Thought Leader.
VJ's brilliance is found at the intersection of technology and investing. He graduated from the prestigious Singularity University in 2009 where he co-founded Get Around, the "Uber for cars". In 2012, he bought his first Bitcoin at just $12. He became passionate about the problems blockchain technology could solve, and dove deep into the technology. To solve his own pain point, he created software for automating crypto accounting and taxes which he sold to Ernst & Young in 2018.
Today, VJ is one of the foremost authorities in the industry, and launched his own SEC-regulated digital asset hedge fund. VJ has made many successful investments in the cryptocurrency space. Some of those investments include:



$ THETA

7842% ROI




$ CAKE

16,704% ROI




$ DGB

19,683% ROI




And many more….