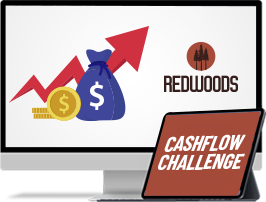 This FREE 5-Day Crypto CashFlow Challenge is designed for the Crypto curious, where you will learn…
How To Generate CASHFLOW With Crypto…and Earn The FIRST Dollar Of The Rest Of Your Life!
Regardless of:
Your crypto experience,
Your tech skills,
Or your financial or investing history
When it comes to building wealth with crypto, most people are shooting for the same goal…Financial Freedom.
Whether that means having all your bills and loans paid off…
Or paying off your house, and OWNING your home…
Or being able to retire when you want…
It all boils down to the ability to create CASHFLOW, so you can accelerate your path to financial freedom.
Inside this 5-Day FREE Challenge, you will:
Create your first crypto trading account, and SECURE your online crypto wallet
Learn how to generate CASHFLOW with crypto…without being affected by the ups and downs of Bitcoin.
Configure your online wallet, and make your first transaction
Learn the SAME crypto wealth-building strategy that's used by a Crypto Hedge Fund Manager
AND, most importantly…how to leverage your cashflow – so you can:
1) Accelerate your path to financial freedom, and then
2) Create long-lasting LEGACY wealth that enables
you to impact the world in your own special way.
We'll teach you how to do "well", so that you can do "good".